The construction sector could lose 176,500 workers – around 8% of its workforce – post-Brexit, it is warned.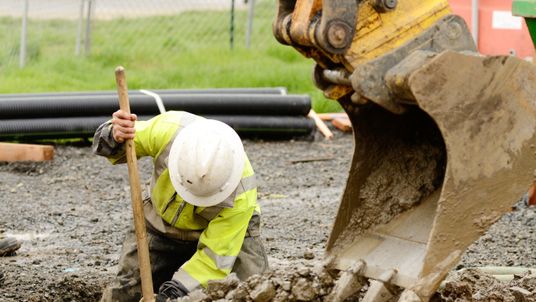 The Royal Institution of Chartered Surveyors (RICS) says the jobs of around 176,500 people are in jeopardy.
That is its estimate of how many people from other parts of the EU are currently working in the UK's construction industry.
It is a figure that represents around 8% of the workforce – and RICS believes the UK simply cannot afford to lose them.
:: Your guide to the Brexit jargon
Although the Prime Minister has backed a "right to remain", it is unclear as to which workers will be allowed to stay in the UK when the country leaves the EU.
In a report due to be published on Wednesday, the institution says that losing those workers would put "some of the country's biggest infrastructure and construction projects under threat".
It also claims that the issue is heightened because "the UK is already in the grip of a construction skills crisis", and is calling on the Government to fast-track visa applications from construction professionals, such as quantity surveyors.
:: Brexit trade deal 'imperative' for UK growth plans, peers warn
The institution says that the combined effect of that skills gap and the loss of foreign workers would raise questions over the UK's ability to fulfil the country's £500bn infrastructure pipeline, a set of proposals that presently runs to more than 700 separate projects.
At its heart, this is a report concerned with two huge topics – Brexit and skills.
RICS president Amanda Clack told Sky News that "the UK has a massive skills gap" but "the question is whether we have the skills to develop the programme of works that we want".
"In terms of skilled workers we have a huge shortfall at the moment, and a shortfall in the core skills that we need to deliver the major construction programmes," she said.
"Obviously now on the back of the EU referendum we have to think about what do we need to do to secure the skills we need to ensure we deliver on the infrastructure programmes, but also for the housing programme within the UK."
Most analysts agree that, in areas such as woodworking, bricklaying and plumbing, as well as in professions such as surveying and engineering, the UK has a serious shortage of trained workers.
Mrs Clack told Sky News that a solution would involve finding a way to keep European workers in the country after Brexit, as well as growing the number of apprentices and also appealing to more female workers to join the construction profession.
But she also fears the effect of an ageing population.
"We have 30% of the workforce that's over 50. They're going to retire and when they do, what are we going to do about that?
"430,000 people are going to leave the sector between 2010 and 2020 so we have to replace that, and then we also need to think about what we need to do to develop those skills."
http://news.sky.com/story/construction-sector-facing-eu-worker-crisis-after-brexit-rics-10802162